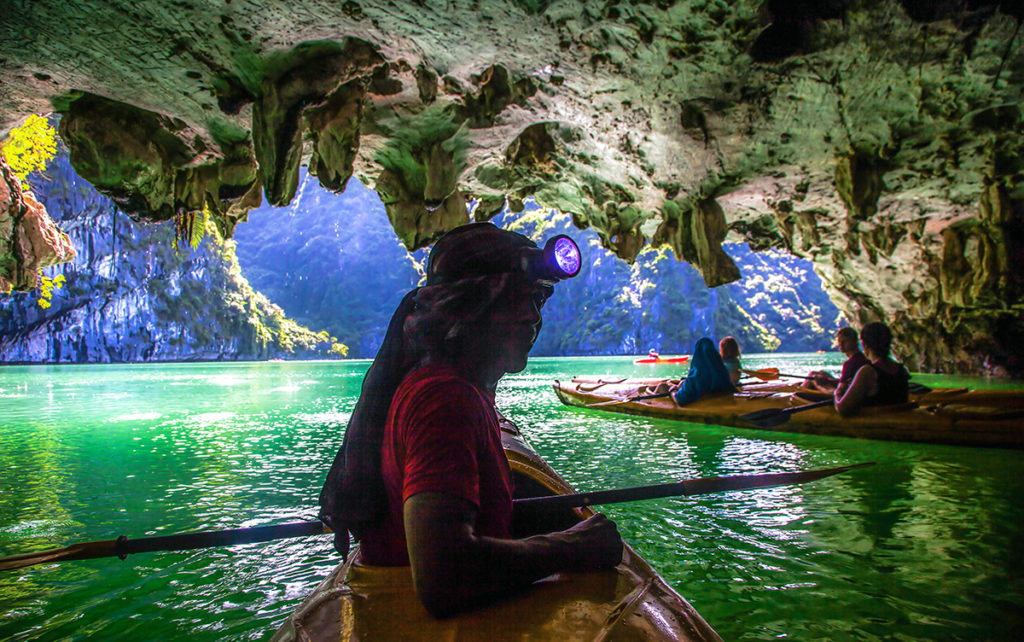 In caving you will discover the beauty of nature and marvel at rock formations and crystals that took thousands, and even millions, of years to shape and develop. Caves come in different shapes and sizes. There are caves that are horizontal, dry, hot, humid and sandy, while others are vertical, cold, flooded and muddy. There are even caves that are located under rivers and seas.
Another great thing about visiting a cave is that you are able to step back in time a bit, as many caves have served as dwellings for early humans, offering shelter from the outside elements. Another interesting thing about caves – when you've toured one, you're going to want to tour another. Luckily there are numerous caves to explore in America that can keep you busy year after year. Let's take a look at several which offer guided and self-guided tours perfect for the whole family:
Mammoth Cave National Park – Kentucky
Since 1816, visitors have toured Mammoth Cave, one of the world's longest and most famous cave systems. The name Mammoth was coined not from the prehistoric wooly mammoth, but because the cave system is so huge – more than 365 miles of it has been explored so far.
Cave tour prices range from $4 to $45 and include tours for all levels of experience, from a 30-minute, self-guided discovery tour to a 6-1/2 hour "Wild Cave Tour" for more advanced cavers which involve free-climbing cave walls and crawling through areas as low as 9 inches high. The temperature inside the cave usually stays around 54° Fahrenheit year-round.
Jewel Cave National Monument – South Dakota
Located just east of the Wyoming border, Jewel Cave is considered one of the best caves in the National Park system, and number three on the list of longest caves in the world! Much of the cave remains unexplored today. But tours inside the cave offer breathtaking walks and intense caving adventure. Aside from stalactites and stalagmites, several varieties of bats reside inside the cave, especially during winter.
Jewel Cave offers three different tour packages, each requiring a different level of experience. The easiest tour is the Basic Tour, which most people should be able to manage. Of course, you have to remember this is a cave, so there will be some steps to climb. On the Basic Tour, there are 723 steps to manage, but you don't have to climb them all at once, they are interspersed throughout the 1/2 mile tour. The next tour in difficulty is the Historic Tour which enters and leaves the cave through a historic entrance and views the cave from an unpaved trail. You will carry lanterns on this tour, which is considered strenuous. Children under 6 are not allowed on the Historic Tour. For the experienced cavers, Jewel Caves offers a Spelunking Tour, a 4 to 5-hour tour which snakes through 2/3 of a mile of the Cave. You are provided a headlamp by the park service, but you must provide all your other equipment. In addition, you must be over 16 and pass a number of tests before being allowed on the Spelunking Tour, including proving the ability to wriggle through an 18″ X 24″ passageway. Needless to say, people with a fear of heights or claustrophobia definitely won't be comfortable on this tour. Reservations are required for the Spelunking tour.
Kartchner Caverns State Park – Benson, Arizona
Located in the southern part of Arizona, Kartchner Caverns was discovered in 1974 by cavers and purchased as an Arizona State Park in 1988. What's cool about Kartchner is that it's a "living cave," in that the formations inside are still growing. It also contains 13,000 feet of passages, boasts one of the world's longest soda straw stalactites – 21 feet 2 inches, and is in near-pristine condition. Typical of most caves, Kartchner Caverns has its share of bats. In fact, during the summer the Cave's Big Room becomes a nursery roost with over 1,000 female bats.
Meramec Caverns – Stanton, Missouri
Like your caves on the commercial side? Then you'll love Meramec Caverns, which has a gift shop inside the entrance of the cave. In fact, Meramec Caverns is the largest commercial cave in Missouri, which is known as the "Cave State" due to it containing over 6,000 surveyed caves. In addition to its natural history, Meramec Caverns has some interesting recent history, as legend has it that the cave was used as a part of the "Underground Railroad" to aid escaping slaves. Legend also has it that Jesse James and his gang hid out in the caves after committing train and bank robberies.
Meramec Caverns also has the distinction of having a ballroom inside the caves which hosts many private and public events, such as an Easter Sunrise Service. The ballroom is an interesting combination of chairs, sound system, lighting and, yes, limestone and stalagmites.
Other Missouri Caves and Caverns
As long as you're visiting Meramec Caverns, why not check out some of the other caves in Missouri? Some notable ones include:
Fantastic Caverns – Springfield, Missouri
Fantastic Caverns is considered "America's Ride-Through Cave" and is great for seniors, physically-challenged individuals and people with small children because you don't walk through the cave, but, rather you take a jeep-drawn tram through the cave.
Marvel Cave – Branson, Missouri
Again, if you like your caves on the commercial side, then Marvel Cave is for you. Marvel Cave is another "living cave" with formations that are still growing and is now part of Silver Dollar City, an amusement park with over 30 rides and attractions, the cave being one of them.
Mark Twain Cave – Hannibal, Missouri
The Mark Twain Cave was discovered in 1819 and is Missouri's oldest show cave, providing tours to the public for over 114 years. The cave is named after "Mark Twain," the pen name of Samuel Clemens, who explored the cave quite frequently and wrote about its wonders. Again, legend has it that Jesse James and his gang hid out in the caves.
If you're looking for something interesting and unusual to do with your family on your next vacation, do consider visiting one of the many fascinating caves that America has to offer. You may discover a passion you never knew existed.